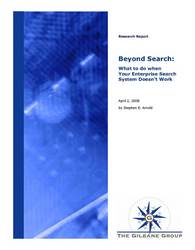 Harrod's Creek, KY (PRWEB) April 15, 2008
Gilbane Group Inc. today announced the immediate availability of the special report "Beyond Search: What to do When Your Enterprise Search System Doesn't Work" by Stephen E. Arnold of Arnold Information Technology.
The 270-page study contains a discussion of how-to's including 13 common problems and possible solutions dealing with enterprise search systems, a detailed discussion of today's market for search and content processing systems, profiles of 24 vendors with forward-looking search and content processing systems, and a technical glossary.
"The study – a first in analysis of search and content processing – represents more than a year of research into text processing and information access. 'Enterprise search' has become devalued and is misleading, out-of-date and a cause of the ongoing confusion about information access," Arnold said. "Who wants a system that is expensive, slow, and makes the employee with a real information need do more work? Shouldn't search should make the employee's job easier?"
Arnold's previous work on Google's engineering, "The Google Legacy" (2005) and "Google Version 2.0″ (2007), provided a foundation for the report's most remarkable revelation about Google. He was the author of the first three editions of the standard search reference work, "The Enterprise Search Report." Looking beyond the routine description of the Google Search Appliance and Google Apps, "Beyond Search" reveals important, little-known information about Google's dataspace technology developed by Dr. Alon Halevy. This "transformic" technology – if commercialized by Google – has the potential to transform search and retrieval, adding greater potency to the "beyond search" idea and allowing Google to leapfrog its search rivals.
In the profiles of up-and-coming vendors, Arnold provides candid evaluations of each vendor's technology plus practical comments regarding the vendor's core competencies. "Each profile contains what I call a 'net net' section. I try to sum up in about 100 words exactly what you need to know about each vendor," Arnold said. "There's no 'pay for coverage' in this study. Vendors had a chance to push back on my assessments, but no vendor paid for an inclusion in this report. IT professionals often struggle to figure out if a report is objective. There's no confusion in "Beyond Search" – vendors are included on merit alone."
The profiles include Access Innovations, Attensity Corporation, Bitext, Brainware Inc., Cognition Technologies Inc., Connotate Technologies, Dieselpoint Inc., Exalead, Exegy, IBM Corporation, Information Builders Inc., Intelligenx, IntelliSearch Inc., ISYS Search Software, Lexalytics Inc., Linguamatics Ltd., Microsoft Corp., PolySpot SAS, Recommind, SchemaLogic Inc., Siderean Software Inc., Thetus Corporation, Vivisimo Corp., and ZyLAB.
An abbreviated summary of "Beyond Search" is available at

"Beyond Search" Summary.
The report is in electronic form in PDF format and is available for immediate purchase and download. A workgroup license (up to 10) is $ 895 ($ 795 if ordered before April 25, 2008); an enterprise site license is $ 1595 ($ 1495) if ordered before April 25, 2008). Order and download now at Gilbane Store or see more detailed ordering information at

["Beyond Search" at Gilbane.
There are a small number of review copies available for qualified press. To request a review copy, send e-mail to beyondsearch at gilbane dot com.
About Stephen E. Arnold and Arnold IT
Stephen E. Arnold is the Managing Partner at Arnold Information Technology, a company that specializes in electronic publishing, marketing via electronic media, online system engineering, and database design.
Arnold monitors search, content processing, text mining and related topics from his high-tech nerve center in rural Kentucky. He is a technology and financial analyst with more than 30 years of extensive operational and entrepreneurial experience, and he is able to bridge the gap between new ideas and the financial implications of a technology. For more information about Arnold IT, contact Steve Arnold, sa at arnoldit dot com or Stuart Schram, chief technology officer, at (502) 228-1966. The company's Web site is Arnold IT.
Gilbane Group Inc.
Gilbane Group Inc. is an analyst and consulting firm that has been writing and consulting about the strategic use of information technologies since 1987, helping organizations of all sizes from a wide variety of industries and governments and working with the entire community of stakeholders including investors, enterprise buyers of IT, technology suppliers and other consultant and analyst firms. Gilbane has organized more than 50 educational conferences in North America and Europe. More information is available at Gilbane.
Selected Quotes From The Study
Semantic content processing is experiencing a resurgence. In 2007, Google's invention of what are examples of semantic technologies appeared in a series of five patent applications published by the USPTO. Page 41
The volume of unstructured information is significant, and it seems to be growing at double digits each month. So a typical organization that starts a calendar year with 100 gigabytes of unstructured information will finish the year with 250 gigabytes or more data. However, much of this may become structured data, which is now growing rapidly due to the surge of interest in XML. Page 44
Endeca takes a high-end consulting firm approach to its consulting business. One licensee said, Endeca is similar to a Booz, Allen & Hamilton or a McKinseyEndeca does not provide a price list, but comments from licensees suggest that the first year fees start at $ 500,000 and go up. Page 61
If we consider Google processing its existing information in a dataspace, a user could run one query and get results from Web logs, Web sites, news, books, and other sources. Google's universal search is a step in the right direction, but dataspaces would take federated searching much, much further. Page 79
Social search can have unexpected consequences. Companies in this sector include Tacit Software Inc., Eurekster, and the previously mentioned Autonomy, and Fast Search & Transfer. The leader in this segment is Tacit Software. Page 83
Classification, entity extraction, and point-and-click access to related content are quickly becoming "must have" features. However, many organizations find themselves unable to afford the seven figure price tags of some of the higher profile systems. Page 89
At this time, we believe Attensity offers one of the more sophisticated text mining systems on offer today. Attensity is one of the leaders in next-generation text mining. Page 109
Bitext illustrates the interest in NLP and linguistic search in Europe. Along with Exalead, PolySpot, and Sine Qua Non, entrepreneurial activity in rich text processing is increasing. The Bitext system can add NLP to almost any search system. Page 114
I would suggest that law firms, analysts, and organizations dealing with problem content test the Brainware system. Page 121
Google and Exalead appear to have somewhat similar philosophies regarding banks of commodity servers running Linux with some special tweaks. Like Google, Exalead is a mathematics-centric company. There are some linguistic operations, but the core of Exalead is algorithmic. Page 148
###